DMH4-0400 HEPA Filter
Model Number: DMH4-0400

Exact Size: 12" x 16" x 2.5"

Filter Rating: HEPA

Expected Duration: 2 to 3 years

Certified true HEPA (High-Efficiency Particulate Air) filter is 99.97% efficient at removing particles down to 0.3 micron.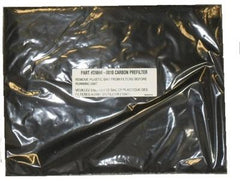 DMH4-0810 Carbon Pre-Filter Blanket
Model Number: DMH4-0810

Filter Rating: Carbon

Expected Duration: Up to 6 months

Allergen Grade: Premium

The activated carbon pre-filter and the optional after-filter can remove lint and unpleasant odors, atmospheric and household dust, coal dust, insecticides, dust mites, pollen, mold spores, fungi, bacteria, cooking smoke and grease, pet dander and tobacco smoke particles.
DMH4-0855 Pleated Pre-Filter
Model Number: DMH4-0855

Filter Rating: MERV 11

Expected Duration: Up to 3 months

The MERV 11 pre-filter catches the majority of large particles before it reaches the Carbon and HEPA filter.